THE HARDENABILITY OF MG-VALDUNES' PATENTED STEEL, AS WELL AS OUR SPECIAL MEANS OF SURFACE TREATMENT, MAKE IT POSSIBLE TO ACHIEVE UNPARALLELED RESULTS IN COMPONENT RELIABILITY AND LIFESPAN.
MG-VALDUNES "42CrMo5-04" Steel
This special steel is produced at the ASCO Industries steel mill in Dunkirk, which makes special steels for crane wheels and mechanical parts intended for all industries that requires handling and manutention of heavy loads.
The steel 42CrMo5-04 is exclusive to MG-VALDUNES - ASCO Industries for industrial applications by MG-VALDUNES. This very clean, vacuum-degassed steel, refined in the ladle, makes it possible to achieve essential properties for long-term component strength:
Very high hardness (up to 550HB) that extends deep into the hardened area (up to 35mm);
Strong resistance to wear;
Impact resistance.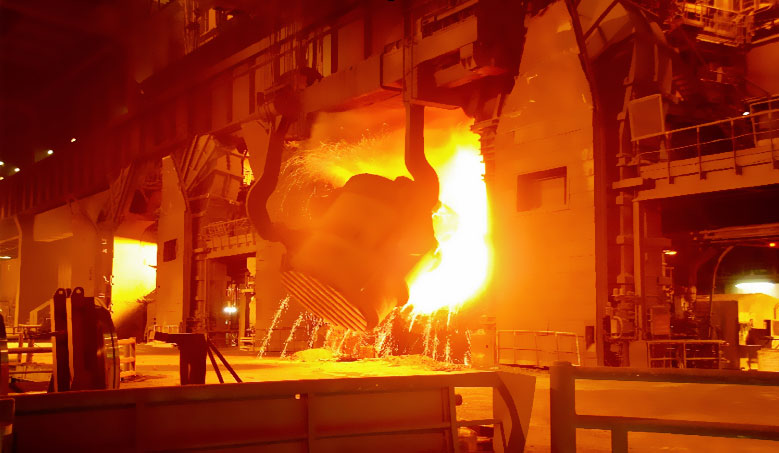 A PROVEN FORGING PROCESS
The forging process provides excellent flow lines with a correctly oriented structure (fibrous type). They are very compact, even when the geometry is unfavourable. The forging reduction is high, and there are no residual stresses from cooling.
MG-VALDUNES HEAT TREATMENT: UNPARALLELED PERFORMANCE GUARANTEED
MG-VALDUNES adapts its heat treatment conditions based on the properties requested: immersion quenching, surface quenching, softening treatment, etc. The properties obtained are as follows:
IMMERSION QUENCHING
Hardness of 270 to 390 HB.
SURFACE QUENCHING
Through a surface quenching method involving the spraying of pressurised water, MG-VALDUNES is able to achieve unparalleled mechanical properties:
Up to 550HB on the tread surface;
400HB up to 35mm deep;
Hub zone > 280HB.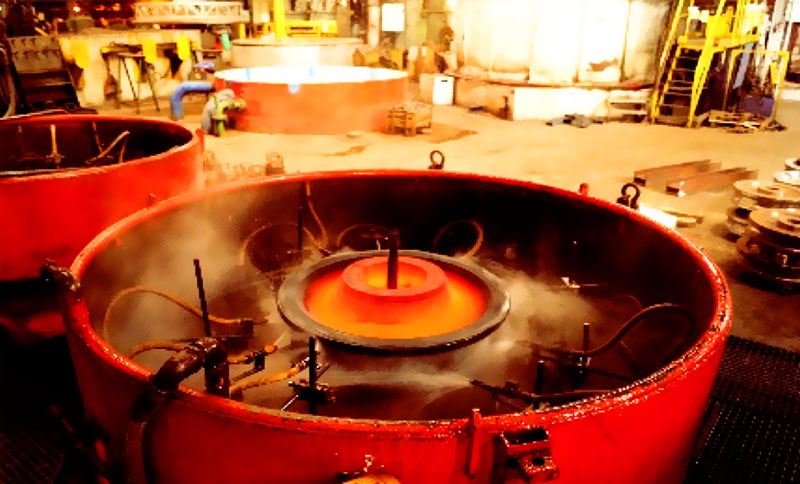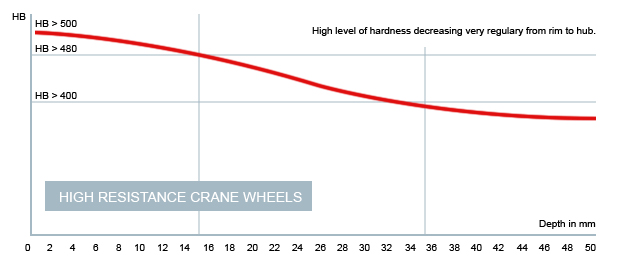 As shown in the graph, hardness decreases at a very regular rate (no sudden transitions) from the rim to the hub. This is possible owing to a surface treatment method that involves spraying pressurised water, unlike older surface treatments (using flames or induction) which ensure hardness only to shallower depths, with a less regular decrease from rim to hub.
MG-VALDUNES' patented steel - due to its high hardenability - combined with an effective heat treatment process, makes it possible to boost scaling resistance and add to the hub compression stresses that inhibit the spread of any cracks. What you get is a reliable product, which ensures that your equipment runs more frequently while needing less frequent maintenance.