MG-VALDUNES IS ONE OF THE WORLD'S LEADING MANUFACTURERS AND SUPPLIERS OF FORGED WHEELS, AXLES AND WHEELSETS FOR ROLLING STOCK.

A NEW DAWN
MG-VALDUNES was created in 2014, following the takeover of VALDUNES by the MA STEEL group. This represents a new dawn in our long history of wheel, axle and wheel manufacture. With over 175 years of experience, MG-VALDUNES has a worldwide reputation for the supply of high performance, high quality products and excellent service. MG-VALDUNES is a fully owned subsidiary of Maanshan Iron and Steel Company (MA STEEL), a Chinese company, quoted on the Shanghai and Hong Kong stock exchanges, and one of the world's top twenty steel companies, producing over 18 million tonnes of steel per year. As part of the MA STEEL family, we join with more than 40 000 employees and benefit from the financial strength of a group with an annual turnover of over 14 billion USD.


DIFFERENTIATED WHEEL SERVICE PROVIDER
MA STEEL Wheel is also the world's biggest manufacturer of forged wheels for rolling stock. The combined production capacity of MG-VALDUNES and MA STEEL Wheel is over 800 thousand wheels per year and together we can offer the full range of wheels, axles and wheelsets for any kind of rolling stock, to suit any performance, quality, volume and economic requirements.


STATE OF THE ART PRODUCTION
The takeover by MA STEEL in 2014 came with an investment plan, valued at almost 50 M EUR, to completely update MG-VALDUNES manufacturing and R&D facilities in Dunkirk and Valenciennes in France. This will mean that MG-VALDUNES once again has state of the art equipment which will increase our capacity, improve productivity, reduce delivery lead times and cement MG-VALDUNES position as the rolling stock wheel, axle and wheelset solution provider giving the best quality, performance, innovation and service.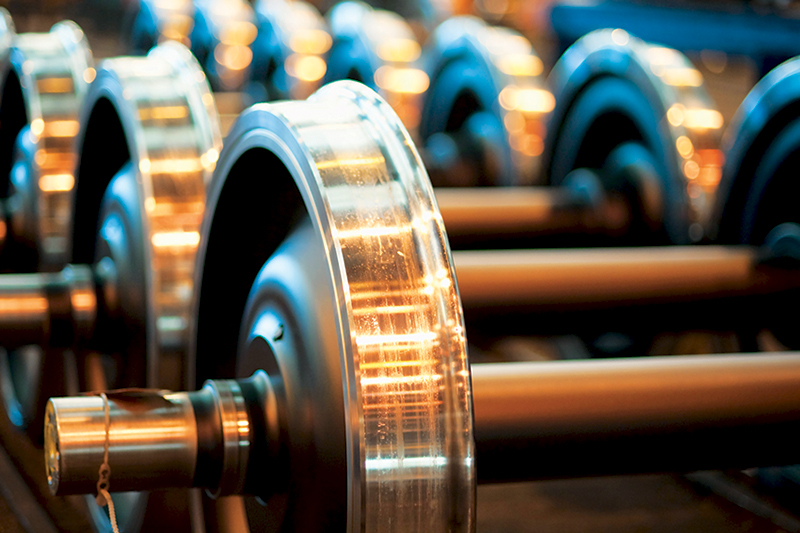 PAST GLORIES, FUTURE SUCCESS
- INTERNATIONAL PRESENCE - OUTSTANDING PERFORMANCE
MG-VALDUNES products are used in over 70 countries around the world, in every continent and in every possible kind of application, to all international standards and all conditions; from extreme cold to extreme heat, under extreme loads, at very high speeds, MG-VALDUNES products are world renowned for their outstanding performance and for their contribution to the reduction of overall costs.
The performance of MG-VALDUNES products has been proven internationally, some examples:
high speed world records (574,8 km/h);
high speed wheel life record over 3,5 million km;
heavy haul axle load over 40 Tonnes;
heavy haul wheel life up to 2 million km;
urban transport squealing noise reduction over 23 Db(A);
freight train noise reduction;
heavy haul wheel life 2,5 times higher than other manufacturers;
wheel wear 30% lower than other manufacturers.